Meeting the Tangerine World Credit Card, the Mastercard that Offers 2% Cash Back and Mobile Device Insurance
If used responsibly, the Tangerine World Mastercard credit card has a lot to offer. It can substantially supercharge your savings with its generous cash-back rewards that can be redeemed either to your credit card account or to your Tangerine savings account. For added convenience, you can include up to five authorized users who can all boost your rewards even further. The application requirements are high, but the card can be well worth it. It's accepted worldwide.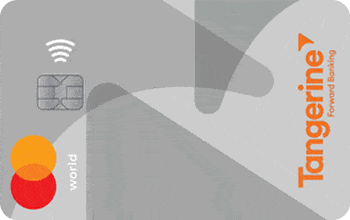 Snapshot of Card Features
SPECIAL OFFER: Earn an extra 15% back* for a limited time with a Tangerine World Mastercard
No annual fee
1.95% APR on Balance Transfers for 6 months
Earn 2% Money-Back Rewards on purchases in two 2% Money-Back Categories of your choice, and 0.50% Money-Back Rewards on all other purchases.
Have your Money-Back Rewards deposited into a Tangerine Savings Account, and get a 3rd 2% Money-Back Category.
No limit on the amount of Money-Back Rewards you can earn.
Change your 2% Money-Back Categories to suit your spending.
Tangerine World Mastercard is an upgrade to the original Tangerine Money-Back credit card. It boasts no annual fees and comes with numerous rewards and bonuses. Its most significant selling point is its flexibility, as it enables the cardholder to choose their own rewards and the way they'll spend and redeem them. Issued by the renowned Tangerine online bank, the card is a reliable choice for anyone who meets the application requirements. However, just because it's trustworthy and reliable doesn't mean it's necessarily the right card for you. So, let's dive into the Tangerine World Mastercard, take a look at what it has to offer you, and see whether it would be a suitable credit card for your financial needs.
RELATED: Tangerine World vs Money-Back
Tangerine World Mastercard Offer Details
Tangerine World Mastercard brings many perks to the cardholder. If you use this card responsibly, you'll have a chance to supercharge your savings and increase your rewards. Check out this brief overview of what you'll get from this credit card. Tangerine Bank is a subsidiary of the reputable Scotiabank, Canada's third-largest bank. It operates solely as a digital financial institution and is famous for its no-fee financial products and savings accounts with high-interest rates.
Among its credit card offers are the Tangerine Money-Back credit card, and the Tangerine World Mastercard. Both cards have no annual fees, unlimited cash-back rewards, and affordable balance transfers for new cardholders. The significant differences between the two are the perks. World Mastercard offers additional VIP benefits such as airport lounge access, mobile device insurance, and rental car collision damage insurance. However, it's the unlimited cash-back reward that attracts many customers. While most credit card issuers give you just a few categories to choose from to receive cash-back, Tangerine has a selection of 10 of them. They include:
Grocery
Furniture
Restaurants
Hotel-Motel
Gas
Recurring bill payments
Drug store
Home improvement
Entertainment
Public transportation and parking
If you're only using the World Mastercard out of all the financial products from Tangerine bank, you can receive 2% money-back rewards in two categories, and 0.5% on all your other purchases. However, if you pair up your credit card with a Tangerine savings account and deposit your rewards there, you'll get the third category as well.
RELATED: Canada Savings Accounts
What's interesting here is that you can switch up your categories at any time. And as an added bonus, Tangerine will offer you suggestions on which categories would be best suited to you based on your spending.
PRO Tip
Keep in mind that when you're switching your money-back rewards categories for the first time, there is a 90-day waiting period before you can switch the categories again. So, before you make any changes, consider where you use your card the most.
Why Do We Like Tangerine World Card?
Tangerine World Mastercard comes with an abundance of perks and benefits, so there's plenty to like about it. Take a look at why we think this card can be an excellent choice.
Rewards flexibility. Few other issuers allow their cardholders to have almost complete freedom over their cash-back rewards, not to mention that even fewer have so many different categories that you can choose from. And unlike other banks, Tangerine debits your cash-back every month, not on an annual basis. While there are many other credit cards with better rewards and bonuses, you'll have a hard time finding one that's as flexible as the World Mastercard.
All purchases are rewarded. You won't have to jump through hoops to meet your minimum purchase requirements or crunch the numbers to see whether you've reached your maximum spending limits. You'll receive the rewards on every purchase you make, with no limits or special requirements.
No annual fee. The card comes with no annual or monthly fee and it is literary free if you use it responsively.
What Can Be Better
Although there are many things that we like about Tangerine World Mastercard, there are several reasons why this card might not be the best choice for everyone. Take a look at a few things that could be better.
Weak welcome bonus. The first thing that we didn't particularly like about this credit card is that it features no welcome bonus. Many similar cards offer additional perks to new cardholders, fewer fees, better cash-back rewards, and more. However, Tangerine's card only has a promotional 6-month balance transfer at affordable rates, and that's about it. So, if you have a card with similar benefits and perks, such as Tangerine Money-Back, there's really no major incentive to get you to switch.
Low out-of-category rewards. A big downside is also the cash-back reward for other purchases. On the one hand, you'll benefit from the 2% cash-back in your main chosen categories. However, 0.5% in other categories is very low. However, to be honest, it's simultaneously a pro and a con. Tangerine offers you ten unique purchasing categories for cash-back, so you can customize the rewards to suit your financial habits. While other issuers often have better rates here, they won't give you such flexibility and won't offer any cash-back for things such as home improvement or public transportation.
High application requirements. Although there aren't too many boxes you need to check, the few requirements they have are pretty strict. You need to meet their minimum income eligibility, either individually or as a household. Both are pretty high, rendering the card inaccessible to many interested users.
Other Credit Card Perks
We also like this card for the many perks that come with it.
Extended Warranty. Many premium Mastercard credit cards offer purchase protection, which has you covered in case an insured item you've bought with the card gets lost, stolen, or damaged within 90 days after purchase. The Tangerine card is no different. However, an additional benefit when you purchase protection with World Mastercard is the extended warranty. This feature allows you to receive double the original manufacturer's warranty on select items for a maximum of one year.
Mobile Device Insurance. A perk that's unfortunately rare among credit cards is mobile device insurance. With this type of insurance, the credit card offers coverage of up to $1,000 on new smartphones and tablets. So, you don't have to worry if your new device is lost, damaged, or stolen. To receive this perk, you'll either have to charge the full cost of the device to your credit card or charge all bill payments to your card if you're buying through a plan. Still, this insurance is well worth it.
Rental Car Collision/ Loss Damage Insurance. With rental car collision/loss damage insurance, you'll receive coverage against theft or damage to the rental car when you rent up to 31 days. Again, you'll only be eligible for this perk if you charge the full cost of the rental car to your credit card.
World Mastercard Extras. All World Mastercards come with additional Priceless Cities and World Experiences perks. Priceless Cities offers you access to many unique experiences. You can join once-in-a-lifetime tours, see certain performers behind the scenes, join exclusive courses and lessons, and more. World Experiences provides astonishing perks. You can get VIP access to concerts, sporting events, restaurants, theatres, and hotels, to name but a few.
PRO Tip
While Tangerine World Mastercard offers great cash-back rewards on your selected two/ three categories, the 0.5% reward on other purchases is pretty low. If you want to maximize your savings, it's good to pair up your Tangerine card with another one that offers higher cash-back rewards on different purchases.
Usage & Applications
Everyday use. Tangerine World Mastercard is designed for everyday use. As it comes with cash-back rewards in several unique categories, you'll get the most out of it by using it for groceries, gas, eating out, paying recurring utility bills such as electricity or phone bills, and entertainment.
Buying electronics. Since the card also comes with perks such as mobile device insurance and an extended warranty, it can be useful for buying electronics and making relatively larger purchases as well.
Online shopping. Of course, any Mastercard credit card is excellent for online shopping as it's accepted virtually everywhere and offers purchase protection.
What Are Costs & Fees
There's no such thing as free money, so when you use your Tangerine World Mastercard, you'll encounter several rates and fees you'll need to cover. It's crucial to consider them carefully and compare them to other credit cards if you want to find a card that suits you best and helps you maintain financial stability. Although it features no annual fee, Tangerine World Mastercard does have other fees you'll need to cover, and they're generally regarded as higher-than-average.
The fees you'll encounter include:
An interest rate on purchases
Balance transfer fees
Foreign transaction fees
Currency conversion fees
Cash advance fees
Interest on cash advances
Over-limit fees
Returned payment fees
Rush card fees
Reprint of past statement fees
Tangerine World Mastercard offers no grace period, so it's crucial to use the card responsibly and pay your monthly balance in full every time (or at least meet the minimum monthly payment requirement).
RELATED: How Does Credit Card Interest works?
As the primary cardholder, you can add up to five authorized card users to your account. What's important to understand here is that authorized users can make purchases and cash advances with their cards, but are not held responsible for paying the owed balance. The primary cardholder is responsible for paying the balance, including that incurred by an authorized user. Regardless of the number of authorized users (or if there are any), your credit card limit, terms and conditions, and rates and fees will remain unchanged.
How Easy & Convenient It Is to Use this Tangerine Card
Using the Tangerine World Card is exceptionally easy, no different than using any other card from the Mastercard network. Currently, Mastercard is accepted in no less than 210 countries around the world. Any merchant or retailer who accepts payments made via a credit card will accept your Tangerine card. What this means is that you can make almost any purchase simply and conveniently, online or offline.
However, it's important to note that even though your Tangerine card will be accepted almost anywhere, it's not a great idea to use it abroad. As stated in the costs and fees section, you'll be charged a foreign transaction fee and a currency conversion fee if you use your card outside Canada, whether you're travelling or just making online orders from foreign retailers.
PRO Tip
If you need a card when travelling to a foreign country, we recommend checking out some of the no foreign transaction fees cards we've reviewed.
What Are Best Alternatives & Competition
What Are Qualifications Requirements
It's always important to check whether you meet the qualifications and requirements before you apply for a credit card. Issuers such as Tangerine will check your eligibility and deny your application if you don't meet the requirements. This will negatively impact your credit score. As previously mentioned, Tangerine World Mastercard doesn't have a long list of requirements for applicants, but that doesn't mean that the conditions it does have aren't stringent.
If you want to apply for the card, these are the qualifications you must meet:
Be a Canadian citizen or legal resident;
Be of the age of majority (18+, or 19+ in some provinces);
Have a minimum individual income of at least $60,000, or
Have a minimum household income of at least $100,000, or
Total balances of at least $250,000 in Tangerine Savings Accounts and/or Investment Funds Accounts.
If you want to add an authorized user to your account, they need to be of the age of majority and a legal resident of Canada. You should have a credit score of at least 660 to 724 to qualify for the card. Tangerine World Mastercard is designed for a good or excellent credit score, and you might not be eligible for the card if your rating is lower than this.
PRO Tip
Tangerine Money-Back credit card is very similar to the World Mastercard, but it's much easier to apply for due to the lower minimum income requirements. If you don't qualify for the World Mastercard, the Money-Back could be a good alternative.
How to Apply for Tangerine World Mastercard
Applying for a Tangerine World Mastercard is a simple and straightforward process that shouldn't take you more than a few minutes to complete. As this is a solely online bank, you cannot apply for the card in person, only online. Apply for Tangerine World Master Card. You'll need to go to the application page to start the process. You'll have a form to fill in, and you should provide the following information:
Your name
Birthdate
Residential status
Contact information
Email address
Social insurance number
Have at least two government-issued, valid IDs on hand when you're applying, and all the necessary documentation to make the application process even faster. Although the World Mastercard is not an instant approval credit card, you should receive a notification about your approval status within a few minutes. In some instances, if more information is needed to verify your identity, residential status, employment status, or other, it could take up to 10 business days to receive a notice about your approval.
PRO Tip
If your application is denied, it's best not to apply for another credit card for at least six months afterward. Every new application temporarily decreases your credit score, so your chances of being approved for another credit line are slimmer.
Bottom Line
Tangerine World Mastercard is a credit card designed for those with good or excellent credit scores. It's an upgrade to the older Tangerine Money Back card, and while it offers many of the same benefits, it comes with additional perks that can be of great value to the cardholder.
What sets it apart is the numerous exclusive features that come with it:
Four insurance types
Ten money-back categories
2% cash-back in up to three categories
Rewards debited monthly
No annual fees
World Mastercard perks
Unfortunately, though, the application requirements are rather high. Besides the basic age and citizenship qualifications that you must meet, you also need a minimum individual income of $60,000. If you don't meet this criterion, you could also qualify for the card if you have a minimum household income of $100,000, or if you have a minimum total balance of $250,000 in your Tangerine savings account and/or investment funds account.
Don't forget to check the Scotiabank American Express Card which is a similarly good option for everyday spending, offers 5000 bonus points, and has lower application requirements.
What Do People Ask About Tangerine World Card?