Secured Plastk Credit Card is an Innovative Way to Build and Rebuild Your Score, While Getting Free Reports and Earning Rewards
Founded in 2019 by Motola Omobamiduro, Plastk Financial is a top-rated, trusted, and the reputable Canadian company that offers Plastk Secured Visa and Plastk Students Secured credit cards to people who need financial tools to improve and build better credit and make the most out of a lower income. Many people struggle to finance their everyday needs and get credit to take their quality of life to the next level. That's why this company decided to create an accessible credit card that offers holders an assortment of rewards and other benefits to help them build credit while enjoying additional perks.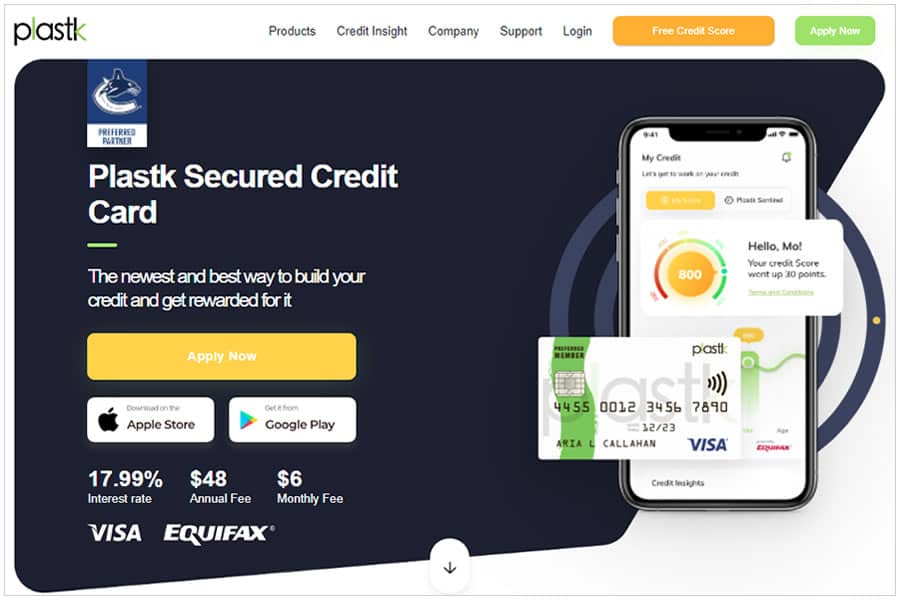 Best for
People with lower income;
Building your credit;
Getting limitless credit checks without impacting your credit score;
Credit cardholders who are looking for additional rewards and benefits of digital banking;
Brand new to credit.
Plastk Secured Card Advantages
The Plastk Secured Visa Credit Card offers a wide range of benefits to consider when applying.
Easy approval
One of the best things about Plastk Secured Visa card is that it caters to all types of credit profiles. If you have a bad credit score, chances are that you'll quickly get approved.
Mobile convenience
Plastk Financial offers the Plastk App to cardholders that allows you to take complete control over how you use your card, monitor credit score, earn rewards, etc.
Acceptable worldwide
Since this is a Visa credit card, it is accepted all over the world. You'll have more than 200 million retailers and merchants at your disposal.
Welcome bonus
Once you get approved for a Plastk Secured Visa, you are entitled to 5,000 bonus points (limited-time offer). These bonus points are equivalent to $20, which is the sign-up bonus you can redeem after three months of using the card. You also get the benefit of having a 0% APR on purchases for those three months.
Earn rewards
Cardholders can earn rewards points on each purchase they make using the card. These reward points are redeemable and can be used as a statement credit to pay your balance, as well as for charitable donations, gift cards, travel and hotel purchases, and merchandise.
Free credit score
When you apply for this card, you receive a Plastk package with a free monthly credit score included, making it much easier to build your credit score and track your progress.
Build credit score
This credit card helps people with lower income build better credit scores or rebuild their credit to improve their current financial standing. A better credit score allows them to qualify for credit facilities such as mortgages and loans, as well as lower interest rates when applying for e.g. personal loan.
Plastk Secured Card Disadvantages
Like any other credit card from the Visa assortment, Plastk Secured Visa Credit Card isn't without its drawbacks. Some of the disadvantages of this credit card include:
High Fees. Hefty monthly and annual fees (See No Annual Fee Cards), High foreign transaction fees;
Penalties. Expensive penalties for missing two payments in a row will subject you to a default interest rate;
Getting your Security deposit back. When you stop using the card and close an account, it takes 7-10 business days or longer to get your security deposit back. You can only close an account if it is in good standing;
Cash up front. Before you can get a card, you'll need to provide cash upfront for a deposit;
Legal requirements. You have to be a Canadian citizen or a permanent resident.
What Makes Plastk Different
While Plastk is a secured Visa credit card, it offers much more than the average secured credit card in terms of rewards. First of all, this is the only secured credit card that allows you to tap into a premium rewards program and earn redeemable points with every purchase you make.
The card is also an excellent financial instrument for building your credit score, but only if you make timely bill payments. The card also reports to the major credit bureaus, and each timely payment you make will be noted on your credit report.
The more you show responsible usage and financial behavior, the more you're able to build, rebuild, and establish your credit score and become eligible for a traditional unsecured credit card, various loans, etc. Plastk is also an excellent financial solution for those who can't get approved for a conventional credit card due to lower income or bad credit. Every purchase you make earns you reward points that you can redeem for:
Merchandise
Travel
Exclusive Events
Gift Cards
Charities
With a Plastk credit card, bad credit is accepted. You can build or rebuild credit, receive monthly credit score updates, get cashback, earn low-interest rates, get a sign-up bonus, achieve zero fraud liability, and enjoy an interest-free grace period. To apply for the Plastk Secured Visa Credit Card, you'll need to complete the following steps:
Fill out the online form
Provide personal information
Submit the application
Complete e-transfer to deposit funds to your account
Plastk Alternatives and Competition
Bottom Line
If you're struggling with bad credit and low income that prevent you from getting approved for a traditional credit card, the Plastk Student Secured Visa may be the solution you need. Aside from allowing you to fulfill your financial needs, this card is also an excellent financial instrument for improving your financial standing, building and rebuilding your credit score, and becoming eligible for getting loans at better terms than before. It allows you to build a better credit history and gain control over your finances.
Frequently Asked Questions