Meet the Scotia Momentum Card that Offers Low APR, No Annual Fee, and Decent Cash Back on Everyday Purchases
Scotiabank is one of the most successful banks on the whole American continent. The bank focuses on all American customers, and its headquarters are in Canada. Among various banking services, trading, and international banking, they offer many different types of cards. One of their most popular cards is the Scotia Momentum Mastercard. This is one of many cards that offer nice cash back features along with no annual fees. Even though these cards might have similar features when you take a look at Scotia Momentum, you can easily see that it stands out from the rest. When you take everything into account, you quickly realize just how good this card is. Here's everything you need to know about this Mastercard.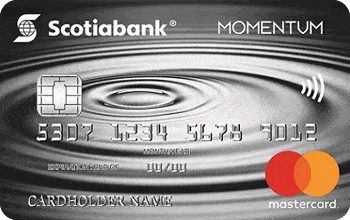 Snapshot of Card Features
No annual fee
7.99% introductory interest rate on purchases for the first 6 months (19.99% after that)◊
Cash back on everyday spending with no annual fee
1% cash back on eligible gas station, grocery store, and drug store purchases and recurring bill payments
0.5% cash back on all other eligible everyday purchases
This card comes as Scotia Momentum Visa and a Mastercard. Both of these cards are very popular because of their distinct offers. There are many different reasons why so many customers enjoy using Scotia Momentum. If you want to check out the full offer, continue reading the text below. First of all, the card has 1% cash back on all purchases, along with no annual fees. Even though these two are some most common features with cash back cards, this one combines many other features that make for a great deal.
Main Features
This card gives its users more than it takes. It has no annual fee making it easy for holders to calculate their spending and their returns.
The card comes with a solid credit limit. The minimum limit a user can have is $500, and as your credit score increases, so does your limit.
Users can consolidate all of the recurring payments that they are making using the Momentum Mastercard. On top of that, this card allows you to convert those same payments into reward points. Purchases such as internet bills, gym memberships, and insurance payments are considered recurring payments.
The card usually has an interest rate of around 20% on purchases. On the other hand, the cash advance interest is around 23%. You can expect the same interest on cheque issuing and balance transfer. However, before getting the card, make sure to check the current rates on the official website. Interest can be subjected to changes.
Users of Scotia Momentum Mastercard can add another card to their account. You can get the card in the name of your family members or even friends. These cards also don't have an annual fee.
This card also comes with a nice welcome offer in the form of a lower interest rate of 7.99%, which lasts for the first six months. The card offers quick pay features so that you can make your daily purchases quickly and get out of the crowd. Scotia Momentum also lets you save up money if you are renting cars. For all the AVIS and Budget car rental services in the US and Canada, you can get 25% discounts. The card also comes with zero liability protection. You won't have to pay unauthorized or fraudulent purchases made by someone else from your account. If you are looking for a cash back card that has great features overall on all daily purchases, look no further. The rewards aren't spectacular, but promotional interest, cashback, discounts, and the bank's reputation make the card worth it.
Why We Like Scotia Momentum Mastercard
In our reviews, we always try to be objective and give you our unbiased opinion. We also did this when reviewing Scotia Momentum. Here is what we liked the most about this card and what most cardholders like about it. At first, we didn't think much about the Scotia Momentum Mastercard. However, the more you learn about it, the more you see why the card is so popular. It's an all-around cash back card.
Cashback on everyday purchases
There are no serious disadvantages that might disrupt your finances – you are constantly getting cash back, no matter what you're buying.
Famous brand card
Scotia Bank is a large brand that is recognized everywhere in the Americas and even in the rest of the world. You can use the card reader for quick payments anywhere.
Widely accepted
We never had a problem making a payment with this card as it's accepted in over 210 countries and accepts more than 150 different currencies. We also like the fact that you can get an additional card for your account.
No fees, low APR
This is a good opportunity to teach your kids financial responsibility and how to use cards while controlling their account activity online. There aren't any fees with the card and the interest is quite low.
Easy to get
At the same time, when you realize that there are basically no requirements for getting approved for this card, it's easy to like it. If you have issues with your credit score and would like to improve it with a cashback, this is the right card for you.
PRO Tip
If you want to use this card for improving your credit score, consider getting an additional card and giving it to a friend you can rely on. Their activity can help you boost your account with nice credit reports and speed up the whole process.
What Can Be Better
No Travel Insurance
This card doesn't come with travel insurance, which is something that lots of people want. On top of that, we don't like the reward points and the fact there's only one way to get them.
Average rewards
However, this is expected for a no annual fee cash back card. You simply can't expect to get larger rewards unless you don't want to pay an annual fee. To find a card for this use, you will have to look elsewhere.
No advanced banking features
This card offers online banking, mobile banking, and a nice app where you can see all the details about your account. Even though this works perfectly smoothly, there aren't any advanced banking features.
No advanced analytics on spending
Still, this isn't something that everyone needs. We simply like seeing it because we like using cards and reviewing them. It isn't that big of a deal, but all the modern cards should give you advanced analytics and help you analyze your spending habits.
These are all the things that we find lacking with these cards. However, when you take into account the whole offer, these downsides aren't terrible in any way. If you work around them and are aware of the shortcomings, you can use this card successfully.
Usage And Applications
This cash back credit card comes with a standard interest structure and nice welcome interest that will give you a good head start. The cash back feature is not that high, but it works for all purchases. This makes the card ideal for people that want to boost their credit and get solid returns on their purchases. At the same time, you don't have to pay for these tools.
The rewards aren't that lucrative, but if you start using the card for more than just daily purchases and recurring payments, you can get more out of them. This is a great card for people who want to repair their credit, as there is little risk involved in using it. With the minimum limit at $500, this card opens up many options. At the same time, you can speed up building your credit with an additional card or teach your kids about financial responsibility.
PRO Tip
This is a great card for people who have no credit whatsoever or those who want to start rebuilding their scores. The requirements and risks are both low, and the card comes from a reputable bank.
Scotia Momentum Costs and Fees
One of the best things about this card is that it comes without any costs or initial investment – you just pay back the card provider through card use. At the same time, the card has nice features that allow you to use it regularly for basic payments. Even if you don't have a lot of money at your disposal, you can use this card successfully and see solid returns. Overview of Scotia Momentum Mastercard costs:
Zero account maintenance fee
No fees for opening an account
Cash advance fees
Penalty APR
Penalty in case of going over the credit limit
Of course, like with any other credit card, if you have a high balance and you can't make your payments on time, you will be charged with additional interest. To know what the interest is, make sure to check the official site as it's subject to change.
How Easy and Convenient It Is to Use the Card
Scotia Momentum Mastercard is a completely hassle-free credit card. You can use it both online and offline. The card is actively used in over 210 countries globally. Since it's a Mastercard, you can use it basically anywhere. At the same time, it supports over 150 different currencies, and it can satisfy anyone's needs.
All merchants and shops that accept Mastercard will let you use this card as well. At the same time, the card has a quick payment option, which lets you pay with a single chip scan. However, it's important to understand that you can only use this feature if your payment is under $100. Still, you should bear in mind that the card has a 2.5% fee on converting currencies. At the same time, make sure not to go over your credit line because you will have to pay a penalty fee. Luckily, this is easy to avoid, as you can always check your balance online.
Qualification Requirements
Since this card is meant for people who have no credit or fair credit, it's fairly easy to qualify for one. If you don't have a credit score yet, you can qualify for it. People who have fair credit (580 – 669) can also get this card. To get this card in Canada or the US you must be a citizen or a permanent resident, and only people who are at least 18 years old can get the card. You also need to have an annual income of at least $12k to qualify. Household income is not a requirement for this card. Anyone who has the basic card can get the additional card without any additional requirements. These cards can even be used by minors, as they don't have a separate account. When applying, you will have to provide basic information, including:
Full name
Contact information including phone and email
Date of birth and social insurance
Current residential status and location
How to Apply for Scotia Momentum Mastercard
Applying for this card is a simple process:
Go to the Momentum Mastercard application page.
Make sure to read the disclosure agreement and accept it.
Add all the required information on the application page.
Check all the information to make sure that there are no errors and submit.
Wait for a couple of days until you get your response.
The whole application process takes about 10 minutes if you are thorough and careful. On the other hand, you can make your application in person if you have a Scotia Bank branch nearby. The whole process is identical, and you will have to wait for the same amount of time. There is no benefit to going into a branch directly. However, if you have some additional questions about the card, it's generally a good idea to talk to a bank representative.
Scotia Momentum Mastercard Competition
| | Scotia Momentum Mastercard | Tangerine World Mastercard | Scotiabank AMEX | Scotiabank GM Visa |
| --- | --- | --- | --- | --- |
| Issuing Bank | Scotiabank | Tangerine | Scotiabank | Scotiabank |
| Network | Mastercard | Mastercard | American Express | Visa |
| Annual Fee | None | None | None | None |
| Credit Needed | Good | Good | Good | Good |
| Intro Offer | 7.99% for 6 months | 1.95% for 6 months on BT | N/A | N/A |
| Rewards | 0.5% – 1% cash back | 0.5% – 2% cash back | 1 point per 1 dollar spent | 2 GM points per 1 dollar spent |
| Bonus Rewards | None | Extra 15% cash back for a limited time | 5,000 bonus with the first $500 spent within 3 months | 5% in GM Earnings on the first $5,000 spent annually |
| Learn more | More | More | More | More |
| Review | Apply Now | Apply Now | Apply Now | Apply Now |
| Application | Review | Review | Review | Review |
Bottom Line
The Scotia Bank is one of the largest banks in the Americas. It's one of the most successful Canadian banks with an international presence. Getting their Momentum Mastercard credit card will allow you to get cash back returns at non-existing fees. It gives you the option to make online payments, pay your bills, shop in stores, and consolidate all your reoccurring payments. At the same time, you can use this card anywhere where Mastercard is accepted. With this card, you can enable a family member to use another card and help build your credit faster. In the end, this is a great card for people who want to build their credit while enjoying solid benefits. At the same time, it comes from a reliable bank that offers special promotions and deals to loyal members.
Other Momentum Offers from Scotiabank
The financial information and ratings for Scotiabank Capital Trust you can find here.
Frequently Asked Questions